For the past few years, one of our Christmas and Thanksgiving favorites has been this carrot bar recipe I remember my mom making when I was a kid. I usually only pull it out for holidays because… holy oil… and not the good kind! Ha! That said, they are super dense, and super tasty, and I think it's okay to splurge every now and then ;). Plus it's a very easy recipe, which is good for me and my baking ineptitude. The recipe is listed below. Enjoy friends!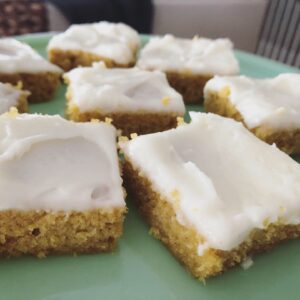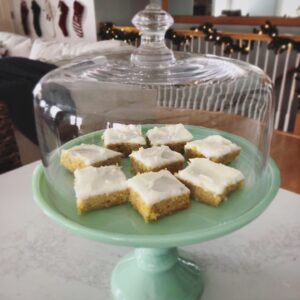 CARROT BARS
4 beaten eggs
2 cups sugar
1 1/2 cups oil
8 oz carrot baby food
2 1/2 cups flour
1 tsp cinnamon
Beat eggs. Add sugar, oil and baby food. Mix. Add flour and cinnamon. Mix.
Bake in 13×9 sheet pan at 350 for 30-40 mins.
CREAM CHEESE FROSTING
2 1/2 cups powdered sugar
5 oz cream cheese
1/3 c soft butter
1 tsp vanilla
Mix all ingredients together. Mix with electric mixer. Spread on cooled carrot bars. Enjoy!